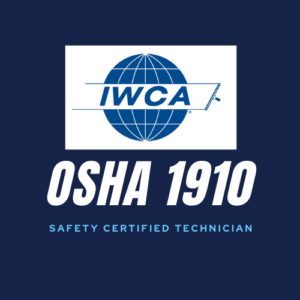 OSHA 1910 Safety Certified Technician (More specifically geared towards Route/Residential/Light Commercial Technicians and Teams)
This class is designed with everything in mind with the exception of High Rise and Aerial Lift Training. It will cover ladder safety centering around extension, stack, step and telescoping ladders with emphasis on proper set up, inspection, and use based on OSHA 1910.23. The class also covers Chemical Safety, Water Fed Pole Safety, Electrical Hazards, Noise Control, Personal Protective Equipment and First Aid. Specific emphasis is given to residential and commercial fall protection systems while accessing roofs utilizing OSHA 1910.30 as guideline for training requirements. This class will also teach those attending how to prepare a Job Hazard Analysis as well as how to sell Safety in their perspective marketplace. This class is both hands on and classroom. There is also a video version of the course in which you should follow along with demonstrations for putting on a harness, properly setting up a ladder, Water Fed Pole Safe usage and others.
In Person Class Time or the Online Training Videos: 4.0 hrs
In Person Training Costs: $149 per person with a minimum of 16 attendees or company pays minimum of $2500. Discounts available for companies over 20 students. It is also more affordable to partner with a neighboring company or multiple to reduce your own minimum if you do not meet it. For instance if one company has 9 employees to train and the other has 7 then this would suffice for the minimum of 16 provided training is done at the same place and time together.
Online Training Costs: $69 per training per person.
Certificates and Carry Cards given for the In Person Training by the IWCA for a three year certification.
Certificates auto-print for the online training class if the student passes the test after watching the videos for a two year certification.
*If you have any questions or want to plan a training for your team please email info@iwca.org or sbright@iwca.org.