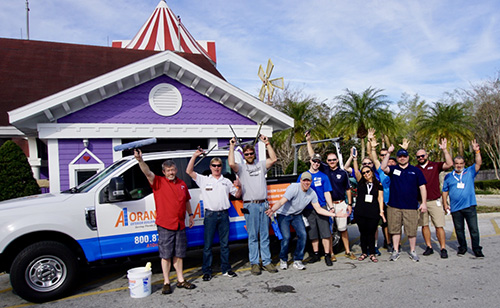 HOW WE STARTED?
The International Window Cleaning Association was formed by a group of window cleaners in the late 80s in an effort to promote safety and education as well as to enhance professionalism throughout the industry.
WHY HIRE AN IWCA MEMBER COMPANY?
An IWCA Member Company is the Standard in Education, Safety, Research, Insurance Coverage and Protection, and Professionalism. When a customer hires an IWCA Member, they know they are getting the best of the best. Hiring any company outside of the IWCA Membership is taking a risk. A risk of OSHA fines shared with the contractor as the business owner or home owner, and a risk of inadequate coverage to protect your home or business from damage.
ANNUAL CONVENTION AND TRADE SHOW
Each year, IWCA holds an annual convention and trade show for professionals working in all facets of the window cleaning industry, from high-rise and route/residential window cleaners to those who manufacture goods and services for window cleaning. Additionally, the association offers four regional safety training sessions per year which gives companies the opportunity to have their employees professionally trained. The IWCA also has an online learning portal for members and nonmembers, with member pricing and benefits far exceeding the cost to become a member. Safety training courses, employee training, glass surface education, and business 101 courses are all available in Campus IWCA to take advantage of to ease the pain and time of training and education. 
WHY IWCA MEMBERSHIP IS IMPORTANT TO YOUR BUSINESS?
The IWCA is also one of only a small number of associations to garner an OSHA Alliance relationship. Many of the IWCA's products and courses have been confirmed by OSHA specifically. In March 2020, IWCA becomes only the second to sign an OSHA Ambassador agreement. Making the IWCA, the premier association for training and compliance with an OSHA stamp behind everything the IWCA offers.