Get your IWCA RDS
Authorization

or

Certification

& hang out with the board of directors!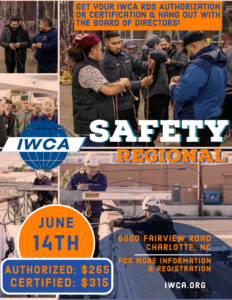 Join us for our upcoming IWCA Safety Regional Evaluations in Charlotte, NC. We will have IWCA Certified Instructors providing evaluations for IWCA RDS Authorizations and IWCA RDS Certifications.
The evaluations will be held on June 14, 2023 at the Canopy by Hilton Charlotte Southpark at 6000 Fairview Road; Charlotte, NC 28210.
Sign up for one of these: Authorization Evaluation OR Certification Evaluation
Authorization Evaluation is for technicians who currently serve as an RDS operator under the supervision of an experienced RDS operator. In order to be an IWCA Authorized RDS Operator, you MUST be evaluated by one of our Certified Instructors and you MUST pass a written RDS exam.
Certification Evaluation is for technicians who have previously been Authorized by an IWCA Certified Instructor. In order to qualify to be an IWCA Certified RDS Operator, you are required to complete and submit a verifiable log documenting at least 480 hours of IWCA Authorized RDS use and be evaluated in person by one of our Certified Instructors.