Introducing Signpost, our newest Associate Member!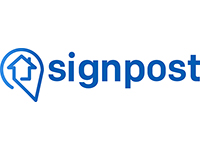 Are your online reviews helping or hurting your business?
If you don't have fresh, positive reviews in the last 30 days, you are probably getting left behind.
According to recent studies, homeowners:
Are looking for reviews. A survey found that 87% of consumers read online reviews for local businesses in 2020.
Choose businesses based on their rating.
Want to see recent reviews. 73% of consumers only pay attention to reviews written in the last month.
Signpost helps your business generate fresh, positive reviews on Google, Facebook, and more, and helps homeowners find you and drive new business. As an IWCA member, Signpost offers you a complimentary assessment of your online presence to see how you stand out against the competition and a get a game plan to help you move up in rank.
Sign up for a free evaluation today and let Signpost help you get More Reviews. More Stars. More Leads.