*The IWCA recommends as a company, you make the best decision you can for your employees, yourself, and the public's health. Checking with legal and your state on your own for clarification of essential is important besides just hearing from us. We do not believe, even if deemed "Essential", you should keep working if you have not trained your employees on the risks, put proper safety measures in place, provided the proper PPE and procedures to protect the public, the employee, or yourself form contracting the virus or spreading it. You should also let the business or residence make the decision to have you continue cleaning or not as well.
BUSINESS RESOURCES
Window Cleaning Is Essential Marketing Video: Window Cleaning Is Essential
New York Cleaning Guidance Report: https://coronavirus.health.ny.gov/system/files/documents/2020/03/cleaning_guidance_general_building.pdf
COVID Resources from our Accountant: https://www.bswllc.com/resources-covid19
My PPP Loan was approved now what?: https://www.bswllc.com/resources-articles-my-ppp-loan-was-approved-what-now
ISSA Advocacy Center – Get Involved signing petitions to push forward some initiatives to help with PPP, Essential, and the Cleaning Tax Credits: https://www.issa.com/advocacy/get-involved/advocacy-action-center?vvsrc=%2fhome
Housecall Pro Coronavirus Resources: https://www.housecallpro.com/coronavirus/
OSHA Recording for COVID Illness: https://www.osha.gov/SLTC/covid-19/standards.html
J Racenstein Article for How Long the Virus stays on Surfaces and cleaning specs: https://home.jracenstein.com/how-long-does-covid-19-stay-on-glass/
What do you do if your employee tested positive?: https://hbr.org/2020/03/your-employee-tested-positive-for-covid-19-what-do-you-do
Update on the Stimulus Plan: https://www.wsj.com/articles/trump-administration-senate-democrats-said-to-reach-stimulus-bill-deal-11585113371
Coronavirus Tax Breaks: https://www.ais-cpa.com/breakdown-coronavirus-tax-breaks-for-us-citizens/
CARES Act: https://www.congress.gov/bill/116th-congress/senate-bill/3548/text
Paycheck Protection Program Guide
Family First Act: https://www.congress.gov/bill/116th-congress/house-bill/6201
SBA Loan Forgiveness: https://www.youtube.com/watch?v=eMruBMfrsSg&feature=youtu.be&fbclid=IwAR0tiDQi3I9duRgU1d3lc7s7Xp6UP3Ap-drbchG8c4GGtI3FEjK1ETRQ01k
US Chamber Letter, Coronavirus_Essential_Infrastructure_Business_Letter_Final, to the President on "Essential" and their website with tons of information for employers and employees. https://www.uschamber.com/coronavirus
IRS Filing Extension Info: https://www.aicpa.org/content/dam/aicpa/advocacy/tax/downloadabledocuments/coronavirus-state-filing-relief.pdf
Small Business Loans/Information: https://www.sba.gov/about-sba/sba-newsroom/press-releases-media-advisories/sba-provide-disaster-assistance-loans-small-businesses-impacted-coronavirus-covid-19?fbclid=IwAR3nd8dCP
Great list of Small Business Resources from the Government, Local States, and Online resources for Credit Cards, Loans, Software Programs, etc. https://thepointsguy.com/guide/small-business-resources-coronavirus/
Employers and Employees should check with each state and area for Unemployment Options. Many states are offering no wait benefits. It will potentially take care of your employees and safe the company the costs if you need to shut down or slow down. You should also check with states and cities for options for food pantries, food stamps and programs, and many non profit organizations helping out with food options in this crisis. Many schools are offering meals for breakfast and lunch while students are out if any employees have kids.
All should check with local utility companies, loans, payments, anything you have open currently. Many companies are waiving payments, fees, and offering free resources all around the country. SBA has emergency paperwork you can file for disaster planning. You can also file creditor and loan hardship forms to push payments back for the time we need.
Are your businesses considered "Essential" and allowed to stay open? We believe in most cases yes as a sanitation and cleaning business. Please check with your local city leaders but as we see in a few cities, you are allowed to keep operating.
How you can help small business from Bankrate: https://www.bankrate.com/finance/credit-cards/how-you-can-help-small-businesses-impacted-by-covid19/
How do cleaning proposals change?: https://www.cleanlink.com/news/article/How-COVID-19-Changes-Cleaning-Proposals–25375
COVID Apple Store App: https://apps.apple.com/us/app/apple-covid-19/id1504132184
ISSA/P&G Infection and Cleaning Certificate Training: https://university.pgpro.com/#/
Coronavirus Anxiety and Stress Manual: https://thewellnesssociety.org/wp-content/uploads/2020/04/Coronavirus-Anxiety-Workbook.pdf
Pivoting Your Business Questionnaire: Pivoting Questionnaire
If employees are still working, consider moving to one person per vehicle, training on hygiene, precautions, and PPE usage.
Contractors Playbook: https://www.servicetitan.com/coronavirus/covid-19-contractor-playbook?
Customer Education Letter Examples to Reduce Cancellations (Can you keep customers on the schedule? Yes you can if you have a plan!) *As a reminder the IWCA does not claim to be experts in what product kills the virus nor do we recommend you claim you can kill it 100% no matter what product you use, even if the CDC/EPA tell you they can: Customer Education Letters – Corona Virus
Customer Education Infographic Example: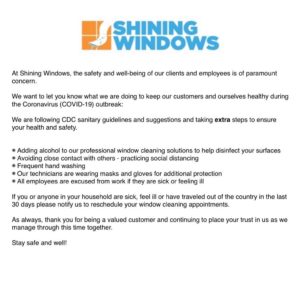 Customer Letter Example for Sales and Estimating (Can you keep selling new customers? Yes you can with a plan and consistently selling!): Coronavirus_Letter_to_Customers for in person sales meetings example
Education Committee Newsletter – Thoughts on Operating Through this: blog 3-11-2020
Add On Services Other IWCA Companies are adding to keep business & residential coming in (More to come….): Soft washing and Power Washing. Outside Only Cleanings. Wiping down handles and often touched services. Wiping down shopping carts and handles. Marketing to high need businesses – Medical Facilities, Schools, Grocery Stores, Churches, Property Managers, Government Buildings, etc. Adding recommended EPA sanitizing agents to their cleaning solutions.
Employee PowerPoint Training: CoronaPPTEmployeeTraining
What each Business and Business Owner Can Do to Minimize the threat: https://www.cspdailynews.com/company-news/what-businesses-can-do-minimize-coronavirus-threat
Also: https://www.cdc.gov/coronavirus/2019-ncov/community/guidance-business-response.html
Here are two documents from the CDC and OSHA on preparation and prevention for the COVID Virus. Please read them and utilize the information in them.
Cleaning Product Recommendations to Disinfect for COVID – https://www.epa.gov/pesticide-registration/list-n-disinfectants-use-against-sars-cov-2
OSHA Guidance Document on Preparing the Workplace – https://www.osha.gov/Publications/OSHA3990.pdf
White House Corona Virus Guidance: https://www.whitehouse.gov/wp-content/uploads/2020/03/03.16.20_coronavirus-guidance_8.5x11_315PM.pdf
EPA Website: https://www.epa.gov/coronavirus
ISSA Website: https://www.issa.com/education/cleaning-for-infection-prevention/coronavirus-prevention-and-control-for-the-cleaning-industry
Surface Lifespan Study and How to Effectively Clean: https://www.npr.org/sections/health-shots/2020/03/14/811609026/the-new-coronavirus-can-live-on-surfaces-for-2-3-days-heres-how-to-clean-them
Developing Cleaning Programs: https://www.cleanlink.com/news/article/How-To-Prepare-For-Infectious-Outbreaks–25242
Basic Cleaning Process Info-graphic: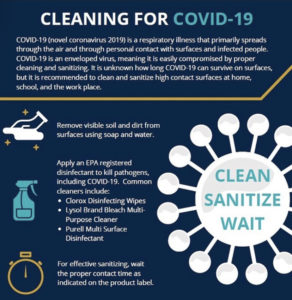 Household cleaners which may kill the virus: https://www.moneytalksnews.com/household-cleaners-that-kill-coronavirus/
Do not mix these chemicals: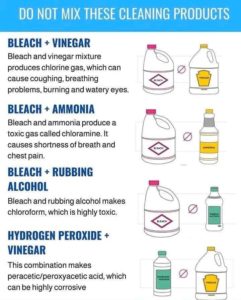 Workiz How Service Businesses Can Protect Themselves: https://workiz.com/how-service-pros-can-protect-themselves-during-the-coronavirus-pandemic/?utm_source=email&utm_medium=intercom&utm_campaign=workizcoronablogandfblive_adgroup=nurture&utm_content=corona-blog-post&utm_term=coronablogandfblive
Tucker/RHG USA Info-graphic on a plan of attack right now for your business: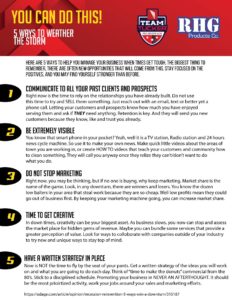 FAMILY RESOURCES
Daily Schedule for Kids at Home: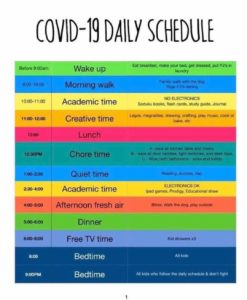 Science Experiments for Kids: https://www.mkewithkids.com/post/here-are-two-weeks-worth-of-fun-and-easy-science-experiments
Free Tutoring: https://www.varsitytutors.com
Virtual Classroom to Learn At Home: https://classroommagazines.scholastic.com/support/learnathome.html
Other Free Education Resources If Schools Close: Resources for Free if Schools Close
Giant List of Ideas for Kids: https://docs.google.com/document/u/0/d/1o6kEgCKLn3cyIm2hehhhSTIk7yRTd0C3zx49JS4wwCI/mobilebasic
Virtual Field Trips to Take with Your Kids: https://adventuresinfamilyhood.com/20-virtual-field-trips-to-take-with-your-kids.html
More Virtual Field Trip Options: https://docs.google.com/document/u/0/d/1SvIdgTx9djKO6SjyvPDsoGlkgE3iExmi3qh2KRRku_w/mobilebasic
Virtual Tour of 33 National Parks: https://totallythebomb.com/heres-33-national-park-tours-you-can-take-virtually-from-the-comfort-of-your-home
Live Zoo Cams: https://www.travelandleisure.com/attractions/zoos-aquariums/virtual-zoo-live-animal-cams
https://www.theverge.com/2020/3/17/21181541/soothing-live-animal-webcams-aquarium-zoo
https://www.earthcam.com/events/animalcams/
Museums Around The World with Virtual Tours: https://www.google.com/amp/s/www.travelandleisure.com/attractions/museums-galleries/museums-with-virtual-tours%3famp=true
DIY Hand Sanitizer: https://www.healthline.com/health/how-to-make-hand-sanitizer
Homemade Pasta: https://www.biggerbolderbaking.com/homemade-pasta-2-ingredient/
Best Foods if you need to be stationary for awhile: https://www.allrecipes.com/article/how-to-stock-emergency-pantry/
Banana Bread Recipe from old Bananas: https://www.stltoday.com/lifestyles/food-and-cooking/prep-school-got-old-bananas-make-banana-bread/html_fb9b9f9a-968e-5ecf-b18c-a69979917a45.html
Example of a grocery list and procedures: https://www.cnn.com/2020/03/17/health/coronavirus-quarantine-grocery-list-drayer-wellness/index.html
Homemade Bread: https://www.tasteofhome.com/recipes/basic-homemade-bread/